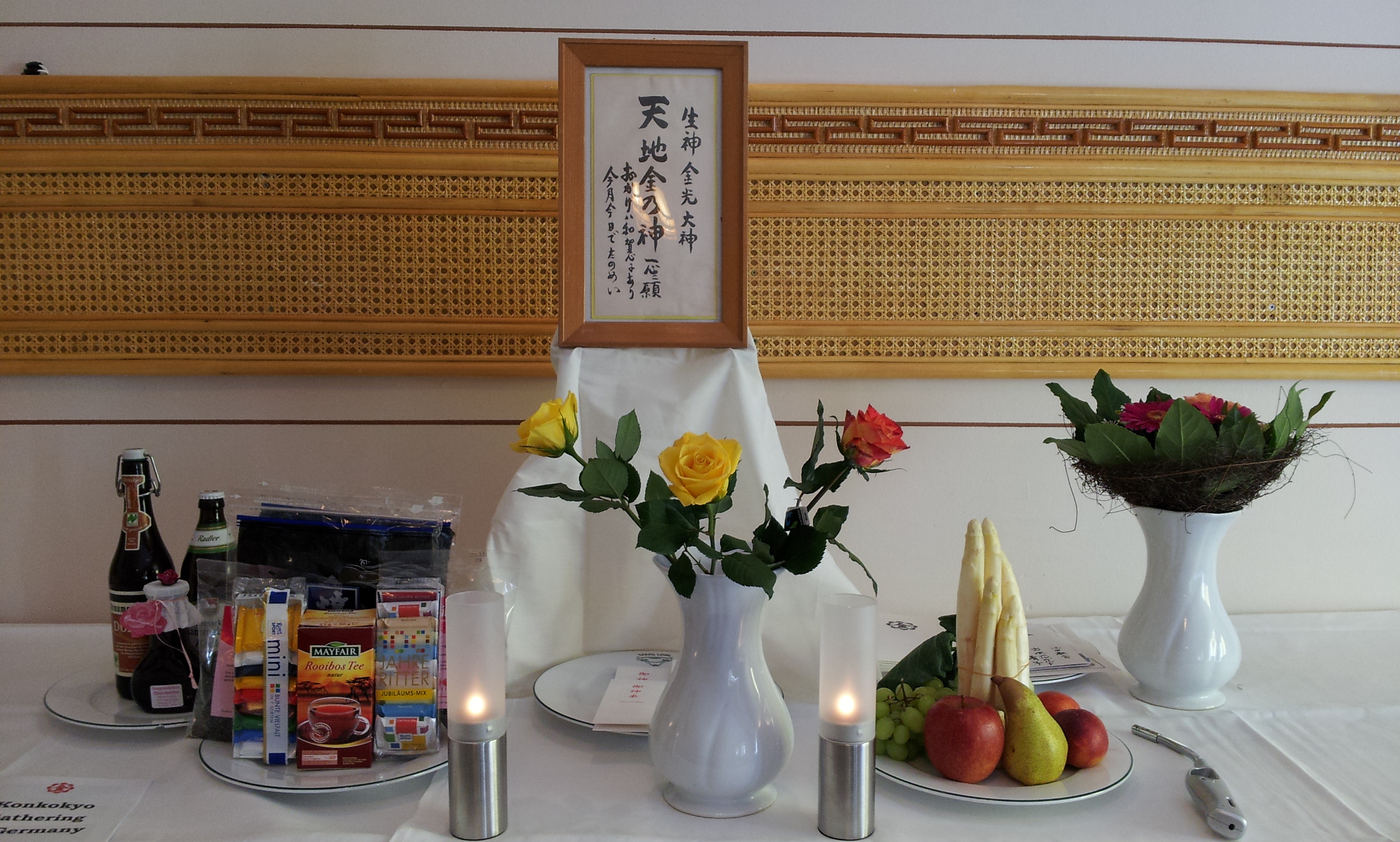 Reverend Yukie Morimoto, the assistant Director of KIC, visited Germany and Britain from June 7th to 19th. A resident minister in Germany, Reverend Kiyoko Furumoto, supported Rev. Morimoto through both the gatherings. Reverend Stephanie Laite (Toronto Church)joined them in Britain.
The gatherings in Berlin were held on June 6th and 10th at the Tang Long Hotel, while the gathering in London was held at the Imperial Hotel on June 16th. Each gathering included a service, a sermon, faith talks and discussions.
Rev. Furumoto officiated the service in Berlin, speaking in both Japanese and German. She also gave a sermon in German after the service, where she talked about the relationship between Tenchi Kane No Kami, Heaven and Earth, and people. Toritsugi Mediation Cards were distributed among the participants where they were able to write it down their appreciation apologizes and wishes and then offer them to the altar. These cards allowed them to focus their prayers to Kami.
In  London, Rev. Morimoto officiated the service with Rev. Laite's support. After the service, Rev. Laite gave a sermon in English about the basic doctrines of Konkokyo and how to practice faith based on "The Konko Faith: Our Creed" document from Konko Churches of North America. Rev. Morimoto also gave a sermon, in Japanese, in which she said "Kami is always with us and keeps an eye on us. If you have any problems, Kami will give you blessings when you pray." After the sermons, the participants had an informal discussion where each person was able to talk about how they had come to the gathering. A young woman who was attending her first gathering said that she was having a difficult pregnancy and she often found herself depressed. One of the regular participants immediately encouraged the lady by saying "Have sacred rice (goshinmai)! You will feel better." This participant was a strong believer in sacred rice, and was able to tell us about some of her experiences. The participants were also able to receive a randomly picked Konkokyo teaching, for them to focus on. Some of the comments from the participants included: "The beginning was so solemn, but the end was friendly. This gathering was a very fruitful time for me." "It is open and friendly." "It's nice of you to come and see me." "Konkokyo believers are very gentle, so I feel calm." The participants were also asked to write on Toritsugi Mediation Cards and offer them to Kami, just as in Berlin.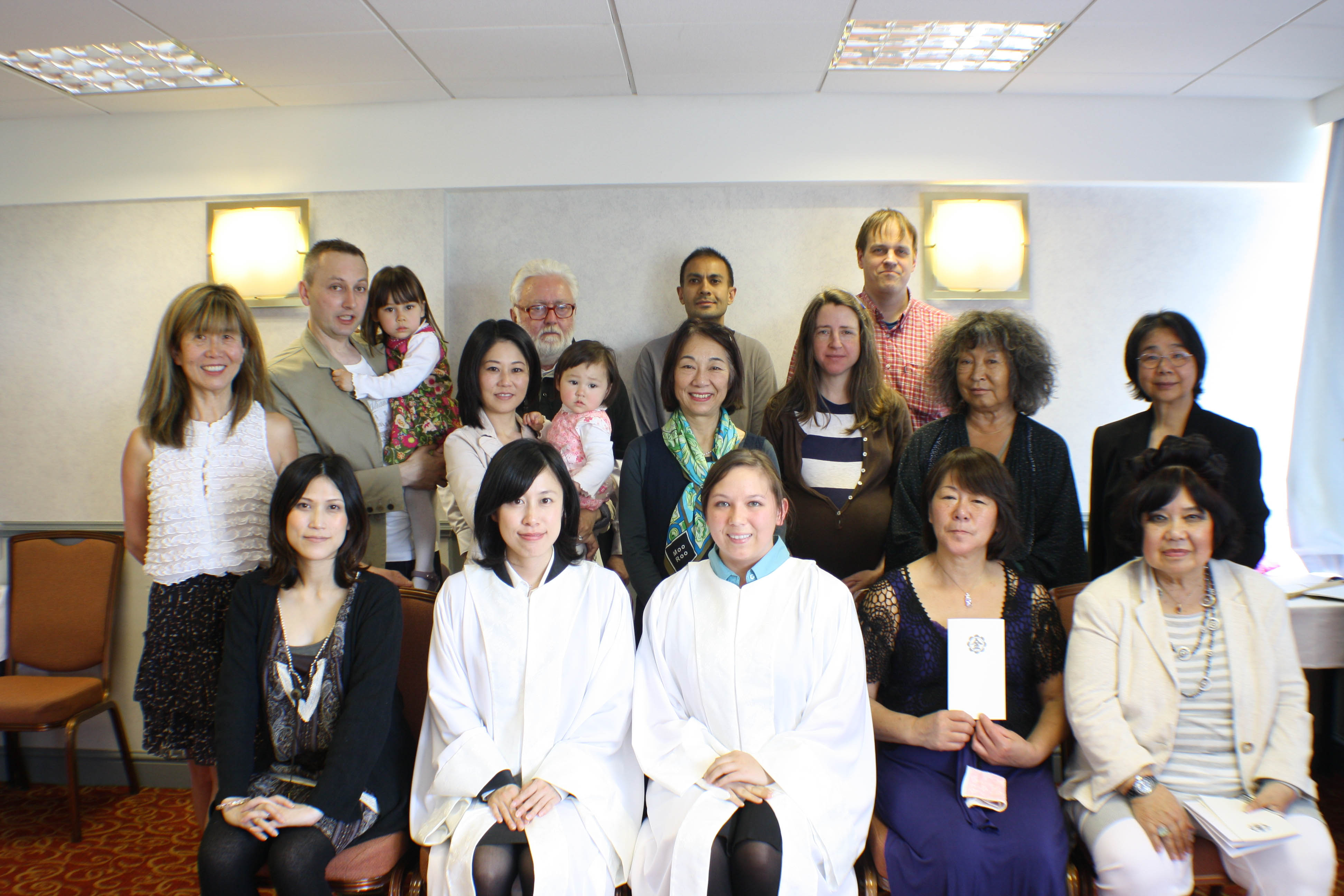 Both before and after the gatherings in Berlin, Rev. Morimoto and Rev. Furumoto joined in activities helping the homeless. They also offered the "Prayer for Peace" at a Christian church that was built upon the land where the Berlin Wall once stood, as well as at a holocaust memorial cenotaph. In London, they had a "Mama's party" for mothers who have little children, which allowed the mothers to talk about their faith and share experiences about their children. This party was a new experiment for KIC and it went very well! Also in London, there was a 'mini gathering' held at one of the believer's home where Rev. Morimoto officiated a small service and the participants were able to talk freely about faith and other topics.
Overall, both gatherings were a huge success. Thank you to everyone who came out and joined us!